Taking a dip in the Sol Duc Hot Springs is one of the top bucket list things to do in the in Olympic National Park that is right outside our doors here on the Olympic Peninsula.

One of the really cool things about Sol Duc Hot Springs is the pools look like normal swimming pools. There are actually three hot springs at Sol Duc Resort plus a regular cool water swimming pool. The hot water is fed into the pools directly from the hot springs.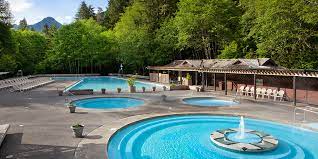 The three pools range in temperature from 98 to 104 with varying temperatures based on how many people have been in the pools, time of day, and season.
• Mineral Water Wading Pool: approximately: 98F / 37C / 6-8′ deep
• Large Mineral Fountain Pool: approximately 101F / 38C / 3′ deep (meets accessibility standards)
• Medium Mineral Pool: approximately 104F / 40C / 3′ deep
• Freshwater Pool: Varies seasonally between 50F – 85F / 10C – 30C (universally accessible)
What makes the Hot Springs water hot?

There are no volcanoes on the Olympic Peninsula, so you might wonder where the heat for the Olympic Hot Springs comes from. Geologists surmise that an underlying break between rock layers, otherwise known as a 'fault', creates a pathway for hot water to travel to the surface.
The water bubbling out of the springs is not chemically different from surface water, suggesting that rain and stream water captured over the surrounding area infiltrates deep into the Earth. At depth, the water is heated and then channeled back up to the surface along a fault.

The hot springs are actually located near multiple faults that wrap around the Olympic Mountains. The faults divide the interior of the Olympics, known as the "core rocks", from the exterior of the Olympics, known as the "peripheral rocks."
Long before white settlers arrived, t
he Quileute people
used the hot springs for therapuetic purposes. They 
named the river "Sol Duc", meaning "sparkling water."
A Legend Straight out of the Game of Thrones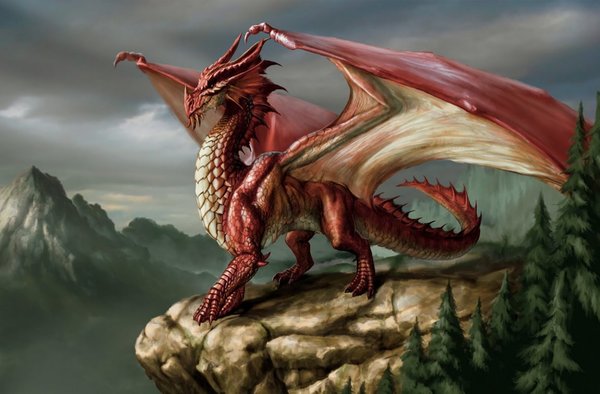 A legend that feels as if it was born right out of the "Game of Thrones" tells of the origin of the Springs.
Long ago, two dragons lived in what is today called the Olympic Peninsula. One, to the east, made his home in the Sol Duc Valley, while the other lived in the Elwha Valley to the west. Neither knew of the other's existence.
All that changed one day with a chance encounter in the forest. Enraged by the thought that another dragon was infringing on their territory, the dragons began a long, bitter battle that raged for years.
Eventually, the dragons had to admit they were so evenly matched that neither could win the battle. Filled with shame, they each slunk away to their respective caves, where they cried hot, steaming tears of regret.
To this day, the dragons cry, feeding both the Sol Duc and Olympic Hot Springs (located in the Elwha Valley) with their tears. [DHC]