Meteorologist Cliff Mass, the American professor of Atmospheric Sciences at the University of Washington, is one of the "go-to" experts for anyone interested in weather modeling and prediction in the Pacific Northwest.
His recent reporting has concluded that April 2023 has been starkly cool over the Pacific Northwest. In fact, the second coolest on record in many locations.  The coolest in others.
The good news?  A strong ridge of high pressure will build over the region bringing MUCH warmer conditions…we are talking about highs around 70F in western Washington, and nearly 80F in the Columbia Basin. How's that for a Spring swing of temperature?
A plot of the differences of temperature from normal for the past two weeks shows uber-cold maximum temperatures (blue color, 6-9F below typical) for much of Oregon and Washington.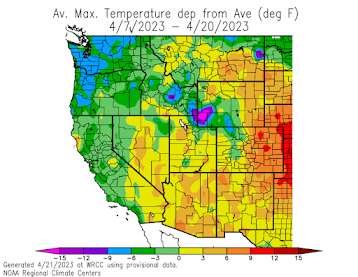 Professor Mass spells it out: "This is historic cold."  For example, at Olympia, the average maximum this month so far was the COLDEST on a record going back over 80 years!  In Seattle, it was the second coldest (2011 was the chilly winner).
Now consider the latest forecast from the National Weather Service National Blend of Models for SeaTac (below). Spring!
"And if you can't afford Palm Springs, take a drive to the Tri-Cities," advises Mass.  Pasco will be above 75F for at least a week and get very close to 80F.  Just perfect.  Not a bad time to check out the wineries in eastern Washington or enjoy the wildflowers over Rangeland country.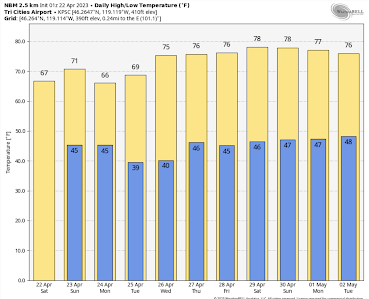 Stay warm, for the moment. There is much hotter weather ahead! [DHC]